Huawin Co.,  founded in 1993,It is a high-grade shareholding enterprise of scientific type which meets the international level. The headquarters of the company is located in National High-Tech Development Zone-university science park of Jinan Hi-Tech Development Zone (China-Ukraine) High-Tech cooperation garden.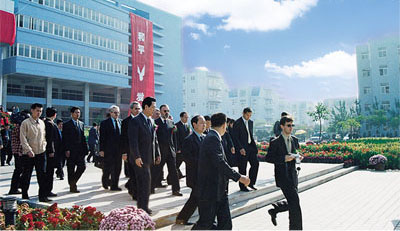 We are always specialized in technology research of Hawing precision work and the field of residual stress, product transferring and promoting. We also provid significant technology of Hawking metal surface processing and complete solutions of residual stress measuring and integrated solution. Our products include VSR equipments, Hawking welding stress eliminating equipments, residual stress detection apparatus, Hawking equipments for processing metal surface, cutting fluid, antirust oil and cleaning agent, etc. Huawin company has been proved to be a professional research manufacturer with the world's longest production line in the field of residual stress.
This introduction of technology of the Hawking metal surface processing can improved 3-level of the surface roughness which can make the workpiece's surface achieve the mirror result even on the ordinary machine tool.
The Huawin company has been qualified with ISO9000 and CE,the products always been used in the field of aviation,space,ship,military,raiway,machine tool,ore machine,power and so on and the products were exported to all over the world,especially to Europe,American,Asia.